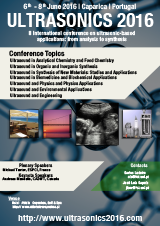 On behalf of the organizing committee, we are delighted to welcome you to Caparica (Lisbon, Portugal), for the 2nd International conference on ultrasonic-based applications: from analysis to synthesis (ULTRASONICS-2016).
---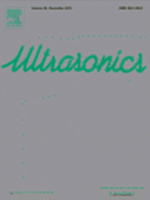 Special Issue on the Ultrasonic advances applied to materials sciencey
Ultrasonics will be releasing a special issue on "Ultrasonic advances applied to materials science". It is intended to gather together the latest innovations dealing in any way with ultrasound applied to materials, including materials processing and ultrasonic conditioning.
Authors are invited to submit their contributions following this schedule:
First date of submission expected: 15th October 2016
Final deadline for submissions: 15th February 2017
Provisional deadline for final acceptance of papers: 15th May 2017
Publication: Late 2017
All manuscripts will be subjected to the normal peer-review process. It is requested that letters of intent to submit manuscripts should be sent to the guest editors by August 31, 2016 or as soon thereafter as possible: jlcapelom@bioscopegroup.org. Please add Special Ultrasonics Journal Issue in the subject.
---
And last, but not least, we have some of the best in the arena:
Dr. Timothy Mason

Coventry University (United Kingdom)


Dr. Mickael Tanter

Ecole Supérieure de Physique et Chimie Industrielles, Paris (France)

Dr.Giancarlo Cravotto

Dipartimento di Scienza e Tecnologia del Farmaco, Universitá di Torino (Italy)

Dr. Khoo Boo Cheong

Department of Mechanical Engineering, Faculty of Engineering, National University of Singapore (Singapore)

Dr. Aharon Gedanken

Department of Chemistry, Bar-Ilan University, Ramat-Gan (Israel)

Dr. Andreas Mandelis

Center for Advanced Diffusion-Wave Technologies (CADIFT), Dept. of Mechanical and Industrial Engineering, University of Toronto (Canada)

Dr. Brijesh K Tiwari

Teagasc Food Research Centre, Ashtown, Dublin (Ireland)

Dr. Daolun Chen

Department of Mechanical and Industrial Engineering Ryerson University, Toronto (Canada)
The Oral Contributions can be viewed here
We cordially encourage you to attend and contribute to one of the major events in 2016 on the Ultrasonics field.
We are confident that you will appreciate the breadth and quality of the scientific program and the city of Caparica, and look forward to seeing you in 2016 in Portugal.
Symposium Subjects:
Ultrasound in Analytical Chemistry and Food Chemistry
Ultrasound in Organic and Inorganic Synthesis
Ultrasound in Synthesis of New Materials : Studies and Applications
Ultrasound in Biomedicine and Biochemical applications
Ultrasound and Physics and Physics Applications
Ultrasound and Environmental Applications
Ultrasound and Engineering
On belhalf of the scientific and organizing committees,
Carlos Lodeiro-Espiño
José-Luis Capelo-Martinez
---
Warning for participants
Please note that Exhibition Housing Services, Exhibition Housing Management and Trade Show Housing do not represent the PROTEOMASS Scientific Society nor BIOSCOPE group, nor have PROTEOMASS Scientific Society or BIOSCOPE Group authorized them to use their names or trademarks on information they send out to participants.
Booking through the Internet and/or travelling agencies will imply additional cost for meals:
        • 15€/lunch/person/day
        • 22,50€/dinner/person/day
           no social events